The fourth episode of UnREAL season 1 ties up some early plot points — while others finally start to ramp up in intensity. In film and television, narrative is often conveyed through beats and arcs. Beats exist as shorter scenes, interactions and moments that feed into a larger narrative while arcs tend to follow a character's progression over a longer period of time.
Beats exist for the audience to understand what's going on in the narrative. In television, beats take the form of a short recap before an episode. These "previously on…" segments are popular among shows that have various interweaving story lines — especially when they are being watched week to week rather than "binged" in one shot.
In "Wife," the recap reminds the audience of moments from earlier episodes that will come to fruition: Adam's demand to have a date in his winery from the pilot, Shamiqua and Athena's conflict of Black identity from episode 2, as well as the relationships of Chet and Quinn and Rachel and Adam.
UnREAL plants the seed of Adam's romantic winery date in the pilot — as he demands to have it put in his contract to incentivize him staying on the show. When the date finally comes, Rachel finds that the winery is a dump and needs to be fully transformed in order to be television fantasy ready. It's also revealed that Adam has invited potential investors to the taping of the date — which ties into his character arc of using the show to build his financial empire without the help of his father.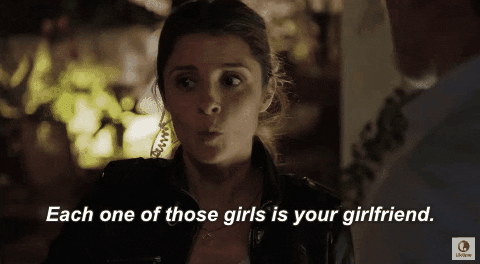 As his producer, Rachel spends most of her time cleaning up Adam's messes. Rachel has to make Jeremy and the crew clean up the property and she calls in a favor from Chet to turn the power back on in the winery. While they have a producer/unruly reality star dynamic — there's also a very real will-they-won't they relationship between them. In previous episodes, Adam has openly flirted with Rachel and Rachel's character arc doesn't lend to her being morally above sleeping with the suitor.
This tension culminates when Adam kisses Rachel on the cheek on set — each small moment between them builds and builds over the course of the season until it feels like one of them has to give in to the temptation.
Also in this episode, the battle between Shamiqua and Athena comes to a close. In the second episode, Jay has a talk with the contestants about how Black women do not make it far on Everlasting. Athena decides to perform as a loud, opinionated stereotype while Shamiqua holds true to her values. Athena tries to make a deal with Adam to keep her to the final four, but is ultimately eliminated at the end of the episode.
Finally, Chet and Quinn's relationship comes to a standstill. Quinn decides she's tired of being second best and goes out with an old flame who helped her create Everlasting. They decide to pursue a lawsuit that claimed Chet stole the show from them, which raises the stakes of Quinn and Chet's personal arcs as well as their relationship.